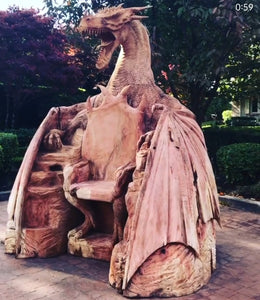 Each year our collection of statues of the Gods and creatures from Norse Mythology will expand making Valgalla the magical place we hope it will become while supporting the arts. We are doing this by raising funds through donations and sponsorship. If you would like to donate to support Valhalla and talented artists pursuing their craft, please do. You can also send us a message to let us know what your preference for the next addition would be. Perhaps Thor or a giant Fenrir looking like he's breaking out of the ground with his head bigger than a human standing tall? Or a huge rendition of Odin's throne that you could sit upon?
Your donation to bringing Valhalla to Midgard is truly appreciated.
Please remember that there is a fixed fee and a percentage amount that gets taken off of each payment you make to us online so if you would prefer to do a bank transfer to Valhalla so all of your donation goes towards raising the funds for a new carbed wood statue for the woodland temple, please get in touch. 
Please note this donation does not guarantee entry or special access to the festival. Its simply a way to become a bigger part of Valhalla, an offer to the gods and support for the art of carving enormous chunks of tree trunks into unique Norse creations for your and all of the Viking community's enjoyment.
If you would like to hold your handfasting at Valhalla with your own officiant arranged we ask for a donation to the temple. We ask that it be at least £100. This offering to the gods will help cover maintenance costs and store the gods safely for the year. In return we will keep an hour free of your choice on the day of your choice provided it has not already been booked so no other workshop, entertainment or activity will interfere with your ceremony. The space will remain open to the public during your ceremony so you may have spectators during the festivities. Once you've made the donation for the ceremony please get in touch to arrange your time.