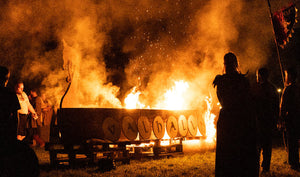 This ticket gets you weekend access to Valhalla Viking Festival 2024, including camping and...
The Valhalla Viking Feast 
Campervan camping available as an upgrade.
You'll have access for the weekend to the main festival site (26th-28th July 2024) and get to enjoy our entertainment, demonstrations, fire dancers, story telling and more!
Under 18s must be accompanied by an adult at all times. 
We look forward to raising a horn to you!
The Feast
Here is how the feast runs (more or less). The feast hall opens at 6pm, you will be provided with a drink on entry (mead, beer or cider), and will be directed to your table.
You will be on a table of 6 people, and when you are seated there should already be a cold platter ready and waiting for your table, expect meats, cheeses, pickles, bread, etc.
Our servers will work hard to bring your two hot platters to your table shortly after you are seated. Expect a mixture of bratwurst, assorted sausages, pork belly, chicken, beef patties, potato of some sort, and mixed veggies (peppers, mushrooms, courgettes, aubergines, tomatos, corn, etc.). Exactly what appears may vary.
If your table demolishes the platters, then our servers will be wandering around with top-ups, and so will the bar staff. There is plenty of food and drink to go around!
The Viking Feast is all about the atmosphere! You'll be sat in our hall with hundreds of other Vikings, sharing a meal and drinking to the Gods, while enjoying some entertainment on stage. If you are expecting to order a 3-course-meal from a menu, this might not be the experience for you, but if you are happy to share an assortment of food and drink with good company then you have found the right place!

Around 9pm, tables are cleared of any plates and leftovers, and the hall re-opens to all festival goers, and the feast comes to an end... until the next day!
---
Activities which cost extra and must be booked seperately. 
Please note Parking is sold separately. Parking is not included in the cost of any of the day or weekend tickets and must be pre-booked.
Your ticket confirmation will be sent to you immediately.
Please ensure your e-mail is correct when checking out. Tickets are non-transferable and non-refunable.
The person named on the ticket, must be the one checking in or a part of the group checking in.
THIS TICKET INCLUDES FREE CAMPING FOR A TENT ONLY.
Campervans cost extra and there is limited availability.